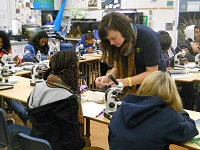 The science focus of California Teach offers four distinct opportunities to explore science teaching (Science Ed. 1SL, 10SL, 100SL, and Summer Internship). 
You will have the opportunity to experience science teaching at the elementary, middle and high school level. In your first quarter of involvement, the focus of the seminar and internship is the elementary school level. Students then have the opportunity to continue to the middle and high school focus. The elementary and middle school seminars and internships are offered for 2 units, pass/no pass with 24-hour field experience. The high school seminar and associated 24-hour field experience is our capstone service-learning course and is offered for 5 units with grades. All of these courses combine the theoretical learning in the seminar with the practical application of the hands-on internship.
You may continue to explore teaching during our one-week intensive summer internship, offered the week prior to the beginning of Fall Quarter.
For those students who have made the decision to become a science teacher, you will have the opportunity to combine your undergraduate and graduate studies and accelerate the timeline to becoming a science teacher (Science Teacher Education Program). In this program, you would take credential courses during your senior year (last year before graduating) and the summer following graduation, to obtain your credential by the end of summer.
You may also declare the Science Education Minor. Students interested in K-12 education, as well as graduate programs in their STEM disciplines, are the primary focus.